Dr. Shebl & Partner Generalplaner GmbH is an international owner-managed general planning firm with its head office in Linz. The company was founded in 1995 through a management buy-out of Suter+Suter.
Today, we have operations in Vienna and Linz, where we employ an interdisciplinary team comprising architects, civil engineers, facility and building services engineers, electrical engineers, environmental and energy experts as well as other specialists.
Our values guide our actions and determine the success of your building project:
Developing flexible solutions and responding quickly to changed conditions is part of our daily job. A key strength of our company and its employees is that we never lose sight of what's important.
We strive for the highest quality with all our services. The long-term success of our customers is central to our thoughts and actions. Our customers trust us as a reliable partner. We promise you to be honest, reliable and always strive for optimal solutions.
Our goal is our customers' success, which we achieve by working together in interdisciplinary teams.
Securing the future of our company has priority over short-term profit considerations. This allows us to maintain successful relationships with loyal customers.
Highly qualified, motivated and performance-oriented employees are the backbone of our success. We give our employees the personal space they need, employ and promote them on the basis of their individual strengths and talents, and help them unfold their true, creative potential.
The build-up and transfer of technical know-how is the responsibility of each of our employees. This is how we offer our customers continuity and growing expertise.
Our market appearance is uncompromising, but fair.
We are an active, responsible part of our environment. We are committed to creating a sound living environment where architecture, functionality, technology and economic efficiency are perfectly attuned to each other.
Your trust is the result of our performance – and is confirmed by many years of loyalty.
Certified quality & acclaimed competence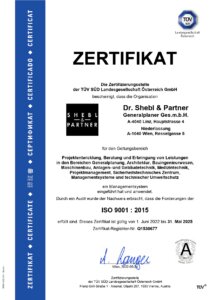 We take for granted that our services are assessed and certified by acclaimed and independent institutes. Dr. Shebl & Partner have all required certifications and licenses which are necessary for the proper execution of your project.
Our commitment
Our primary goal is the success of our customers, which we achieve through technical knowledge, focus on values and interdisciplinary teamwork.
Customer success is, of course, inseparably linked to the success of our own business. A sustainable future has priority over short-term profit considerations. This is why we maintain successful, long-lasting partnerships with our customers.
Our consulting services help you to SAVE CAPITAL AND OPERATING COSTS.
Our planning services help you to SAVE TIME.
Our coordination services help you to STAY ON THE SAFE SIDE.
Welcome to Dr. Shebl & Partner!
The most precious asset in our company are our employees.
Working in interdisciplinary teams, a family environment and a broad spectrum of services are the perfect breeding ground for personal growth and professional advancement. If you are interested in joining our team, please send your speculative application to .
Have we aroused your interest?
We look forward to receiving your relevant application documents at !